ISO 9001:2008
---
LGAl Technological Center
certifies that the quality system of the organization:
VALNU SERVICIOS DE INGENIERIA, S.L. for the following activities:
Writing projects and writing health and safety studies, construction management and coordination of safety and health at construction sites, legalization of project management, comprehensive maintenance, technical advice and assistance in general.
Complies with the requirements of the standard ISO 9001:2008
ISO 14001:2004
---
LGAl Technological Center
certifies that the quality system of the organization:
VALNU SERVICIOS DE INGENIERIA, S.L. for the following activities:
Writing projects and writing health and safety studies, construction management and coordination of safety and health at construction sites, legalization of project management, comprehensive maintenance, technical advice and assistance in general.
Complies with the requirements of the standard IS0-14001:2004
OHSAS 18001:2007
---
IVAC Instituto de Certificación
certifies that the quality system of the organization:
VALNU SERVICIOS DE INGENIERIA, S.L. for the following activities:
Writing projects and writing health and safety studies, construction management and coordination of safety and health at construction sites, legalization of project management, comprehensive maintenance, technical advice and assistance in general.
Complies with the requirements of the standard OHSAS 18001:2007
ISO 50001
---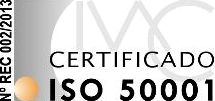 IVAC Instituto de Certificación
certifies that the quality system of the organization:
VALNU SERVICIOS DE INGENIERIA, S.L. for the following activities:
Energy management Engineering activities.
Complies with the requirements of the standard ISO 50001
ISO 14006:2011
---
LGAl Technological Center
certifies that the quality system of the organization:
VALNU SERVICIOS DE INGENIERIA, S.L. for the following activities:
Writing projects and writing health and safety studies, construction management and coordination of safety and health at construction sites, legalization of project management, comprehensive maintenance, technical advice and assistance in general.
Complies with the requirements of the standard ISO 14006:2011
CERTIFICADO EVO
---

CMVP,EVO (Efficiency Valuation Organization) and AEE (Association of Energy Engineers)
certifies that the organization:
VALNU SERVICIOS DE INGENIERIA S.L., through the organization Efficiency Valuation Organization (EVO) charge of offering services and products such as measurement and verification of energy and water savings in energy efficiency projects among others and has certified engineers in Certified Measurement & Verification Profesional (CMVP), thereby Valnu from now may certify installations and energy savings measure, gmanage financial risks and operation of energy savings contracts, quantify carbon emission reductions from energy efficiency projects among other benefits.
EVALUADOR ACREDITADO EN VERDE
---

Green Building Council España:
certifies that the organization:
VALNU SERVICIOS DE INGENIERIA S.L., through their engineers they already have "Accredited Evaluators of the Degree of Sustainability of Buildings" (Certified Accredited Evaluator in GREEN), this accreditation issued by GBCe (Green Building Council Spain). With this accreditation Valnu acquires in-depth knowledge about certification with GREEN and its methodology for the evaluation of new buildings, multi-residential buildings and offices. With this you can certify a building as GREEN.
Associations
---
Here is an introduction of the main Associations to which Valnu Servicios de Ingenieria S.L. belongs:
Política de Cookies
Usamos cookies. Si te parece bien, simplemente haz clic en «Aceptar todo». También puedes elegir qué tipo de cookies quieres haciendo clic en «Ajustes».
Lee nuestra política de cookies